The Whisper of Dragons is out. It's been a long time in the works, but I'm happy to be releasing this stand alone contemporary fantasy. You are able to purchase it on Amazon in Kindle and print formats now.
Read the blurb below to get a sneak peek.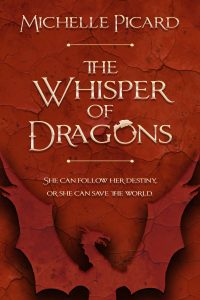 Something is wrong with the Story of the world.
Stories are the bonds of connection between all matter, and their breakdown is causing earthquakes and social unrest to tear apart 21st century Earth. Kavi, a Story Whisperer, must solve the mystery of this chaos before a deeper threat leads to the death of humankind.
Kavi has a secret. A dragon chose her as its heir when she was a child because she possessed strong magic to bend the Stories of matter. Kavi's dragon wants her to inherit its mantle, transform, and join the ranks of the Guardians who protect the world.
But if the dragon's powerful Story magic cannot save her people, how will she?
And will she have to give up her humanity to do it?
Click here to purchase the Kindle book. And click here to purchase the paperback.
"It has been a long time since I read an urban fantasy novel that really feels like it brings such a fresh twist to the world's magic system….This book has everything! From dragons to artificial intelligence to the end of the world. And all are balanced perfectly on the much harangued but always brave Kavi Kindra." ~ Reader Review

Fans of dragons, especially the intelligent, contrary type, will enjoy this story. Mix in the challenge of a modern world where magic, technology and science blend together, and a strong female character stubbornly determined to save her world, and you are on your way to understanding The Whisper of Dragons.
WATCH MY BOOK TRAILER FOR ANOTHER PEEK:
And check out my Books page for the full details on my already published Eden's Court Saga.
Thanks and stay in touch,
And if you'd like to listen to some of the music that inspires my writing, part of the soundtrack of my life, follow the link to my Spotify playlist below: