The Whisper of Dragons is out. It's been a long time in the works, but I'm happy to be releasing this stand alone contemporary fantasy. You are able to purchase it on Amazon in Kindle and print formats now. BUY LINK
Read the blurb below to get a sneak peek.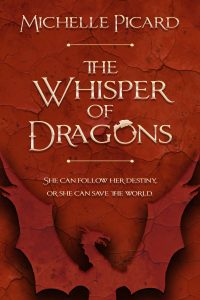 Something is wrong with the Story of the world.
Stories are the bonds of connection between all matter, and their breakdown is causing earthquakes and social unrest to tear apart 21st century Earth. Kavi, a Story Whisperer, must solve the mystery of this chaos before a deeper threat leads to the death of humankind.
Kavi has a secret. A dragon chose her as its heir when she was a child because she possessed strong magic to bend the Stories of matter. Kavi's dragon wants her to inherit its mantle, transform, and join the ranks of the Guardians who protect the world.
But if the dragon's powerful Story magic cannot save her people, how will she?
And will she have to give up her humanity to do it?
Click HERE to purchase the Kindle book. And HERE to purchase the paperback.
D. DONOVAN, SENIOR REVIEWER OF MIDWEST BOOK REVIEW GAVE THE AMAZING REVIEW BELOW:
"Urban fantasy readers who enjoy stories replete with magic, intrigue, and adventure will find The Whisper of Dragons the perfect choice. It's a pick for readers who want a compellingly original story that doesn't just draw from the start, but yanks one's attention with surprising descriptions reflective of the power of Michelle Picard's writing: "The first moments of an Earth dive kicked ass compared to any rodeo bull ride. All tingling rush and alive, nerve-popping symphonies and color. Full dissolution into the body of the Earth was a potent, verdant, breakneck speed descent, except done in exquisite slow motion. Being ripped out of an Earth dive? That sucked worse than unexpected jalapeño bits in your breakfast cereal."
From these first compelling moments, Picard demonstrates an ability to capture twenty-nine-year-old narrator Kavi Kindra's wild romp through her world in search of Stories of miracles large and small, disasters, birth—and way too many Death Stories.
Kavi harbors a secret relationship with a Dragon, and holds the power to bend and change these Stories. She's being pressured to become a Guardian, but is not sure this move will save her people. Instead, she seeks an alternative and ignores both the cautions of the Dragon and her own clan to become the kind of Guardian she believes her world needs.
Readers will find this land both familiar and alien, at the same time. It's replete with powerful women, dragons, sages, whispered Stories, and influences that build upon nature and human worlds alike, from California's Calaveras Big Trees State Park to experiences which illustrate that Kavi harbors different goals than the Guardians or her own people.
Dialogues between Kavi and both these forces offer philosophical inspections that will delight readers seeking more than action and adventure alone: "The dragon drawled a response. *Are you not willing to pay a price? Is the goal not important enough to push aside foolish rules and protests over personal rights? Is it not inconsequential to worry about forcing others without their permission?*
 As supervolcanos, earthquakes, and other forces of nature enter the picture and are affected by Kavi's decisions and talents, readers are treated to a compelling saga that takes the urban fantasy genre and turns it on end with a fresh tone of originality and action that is compelling and creatively new.
The Whisper of Dragons holds few of the familiar trappings of either dragons or magic that have grown old over the decades with such writers as Anne McCaffrey and those who followed her.
Instead, it's a satisfyingly refreshing, surprising introduction to an entirely new world where dragons are just one facet of a tale which embraces romance, rebirth, and duty alike.
Fantasy readers seeking a new perspective that rocks with power and rolls with force will relish The Whisper of Dragons and its ability to forge a new world replete with revised Stories and a compellingly wild life." — D. Donovan, Senior Reviewer, Midwest Book Review
YOU CAN FIND THE LOVELY  KIRKUS REVIEW OF THE WHISPER OF DRAGONS HERE.
"Picard effectively presents a large and engaging cast, and she escorts the reader into what proves to be a complex world….Picard does showcase a clear, cohesive theme regarding the importance of human interaction, which runs through every conversation and plot development." — Kirkus Reviews
AND ANOTHER LOVELY REVIEW FROM BOOKLIFE BELOW:
Picard (The Eden Court Saga) returns with a fantasy that prioritizes story above all else—literally. Set on a contemporary Earth rocked by increased earthquakes and natural disasters. Kavi, a "Story whisperer" of the secretive, matrilineal Rawiya clan, is heir to a dragon guardian, Amthorn, who tells her that these tectonic shifts are due to the Void. The Void—quite literally defined as "the absence of Story"—leads to the weakening connections between humans, which in turn, is leading to the destruction of the Earth itself, as "The Stories are the connections between all matter of the Universe." Kavi's friend Stacia has been kidnapped by a man who wants to combine her magic with artificial intelligence, and Kavi, her childhood love Gideon, and others go on a quest to save Stacia—and save our world from the void.
This gets complicated when Kavi faces not just danger but betrayal. Picard proves adept at creating complex characters with interesting relationships. Kavi in particular is a compelling protagonist, and her relationship with Gideon–her childhood love who was exiled from the clan– is both sweet and rich, as is her dynamic with Guardian Amthorn, whom she clearly cares for but who is set against humanity.
Picard writes effective, imaginative prose, though this fantasy's worldbuilding isn't always clear, such as how exactly the Rawiya clan lives hidden away from "twenty-first century iPhone and YouTube lives" when they ride dragons and exercise mind-control on ordinary humans. The magical system, combining AI, dragons, and the Void, could be presented with greater clarity. Using her Crita, Kavi can create new Stories, which can control the way people and things act. "There are rules. Your power has limits," Amthorn says to her late in the story, but those limits remain mysterious. Still, the characters and the idea that humanity has lost the Stories that connect us to the Earth and each other make for a compelling, enjoyable low fantasy." — BookLife Review
"It has been a long time since I read an urban fantasy novel that really feels like it brings such a fresh twist to the world's magic system….This book has everything! From dragons to artificial intelligence to the end of the world. And all are balanced perfectly on the much harangued but always brave Kavi Kindra." — Reader Review

Fans of dragons, especially the intelligent, contrary type, will enjoy this story. Mix in the challenge of a modern world where magic, technology and science blend together, and a strong female character stubbornly determined to save her world, and you are on your way to understanding The Whisper of Dragons.
Click HERE to read Chapter One
WATCH MY BOOK TRAILER FOR ANOTHER PEEK:
And check out my Books page for the full details on my already published Eden's Court Saga.
Thanks and stay in touch,
And if you'd like to listen to some of the music that inspires my writing, part of the soundtrack of my life, follow the link to my Spotify playlist below: