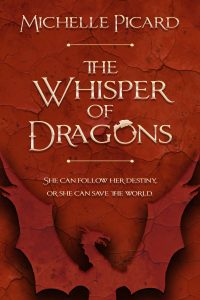 THE WHISPER OF DRAGONS
 Order ebook or  Trade Paperback from Amazon
Click HERE to read Chapter One
RULING EDEN
Four Stars from RT Book Reviews, June 2010
PRISM FINALIST–2ND PLACE 2010
Order ebook or Trade Paperback from Amazon
What if a modern woman suddenly learns she is heir to the throne of a magical realm hidden in our world and is the most powerful magical being on the planet?  Growing up an orphan, Rachel always assumed she'd be going it alone, until the night before her twenty-fifth birthday when she is thrust into the realm of Eden's Court.
Her new job description?  Unite seven contentious magical races in order to prevent the destruction of earth.  But learning to rule is easier than facing her attraction to Gabriel, half-angel, half-demon.  Born of a forbidden love between mortal enemies, Gabriel is convinced he is a political liability to Rachel. Once Rachel stops denying their chemistry, she must convince him to pursue their love.  Although Gabriel is willing to help her solve a murder, avert a war, and learn to use her overwhelming magic, accepting their destiny together is another matter.
Read reviews and an excerpt here
SURVIVING EDEN
Order ebook or Trade Paperback from Amazon
Rachel Rieh wields enough magic to make a goddess jealous, or so she learned three weeks ago when she thought she was an ordinary, reclusive, and short-tempered gal from Boston. In this second story of Eden's Court, Rachel, now the new ruler of the Kesayim, (angels, demons, dragons, faeries, vampires, shapeshifters and witches–the goddess-created protectors of mortalkind) finds herself faced with the task of stopping vampire hunters from annihilating the vampire race. Her lover, Gabriel, half-angel, half-demon, stands by her side to help if she can escape her obsession with protecting him at all cost.
Earth is already on the verge of destruction within six months because magic is out of balance. The new threat to the vampires destabilizes the situation more. In her race to save the vampires, Rachel meets Lilith, goddess, creator of all Kesayim and humans, and the one with all the answers to Rachel's problems. But is the cold-hearted goddess intent on changing Rachel into her image the greater threat to Rachel and everyone she loves? 
And here's the link to the amazing new book video trailer produced by Goddess Fish:
Book Review Diva gave it 5 Books out of 5
SAVING EDEN
Order ebook or Trade Paperback from Amazon
In the final installment of the Eden's Court Saga, Earth is on a countdown to self-destruction. Rachel Reih, the unlikely new ruler of the world's supernatural species, (angels, demons, dragons, faeries, vampires, shapeshifters and witches) races to solve the mystery behind saving the planet. Magic is disappearing and natural disasters are rampaging across the globe. Suicidal dragons, psychotic faerie queens, mad alien goddesses, infertile witches, vampires targeted for mass exterminations, and angel-demon guerilla warfare have not improved the situation. And now that Rachel's stumbled upon a species of nulls, immune to magic and dangerous to all magic users, can she put the pieces of the puzzle together in time for Eden's Court to survive? Separated from her closest advisor, ex-lover Gabriel, she struggles to build the alliances needed to find a solution and convince the supernatural world to end its warring and unite.